Roll out Turf is a very effective option for those who want an instant lawn and do not want to go through the process of waiting for a new lawn to grow. The Roll out Turf we supply is already at least 12 months old, meaning it is mature and established when laid, alleviating any growing pains or time spent waiting for a new lawn to grow. An instant solution for your landscaping needs!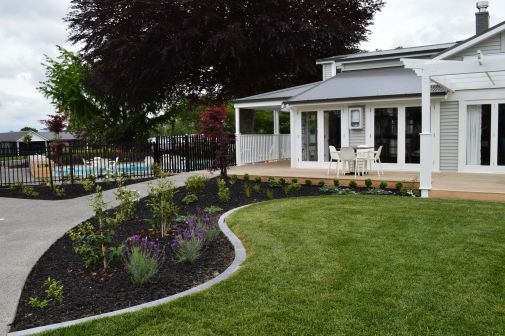 The Choice is Easy!
There are so many reasons why choosing Roll out Turf is a great option! It's instant; it goes down green and lush; and you will never need to put up with bare earth, dusty sand and soil, or dogs scratching up the soil and birds stealing your seeds ever again!

The Process
Our turf supply comes from a local turf farm where it has spent the last twelve months growing to become fully established and lush.
We can supply a range of grass types, including: Kikuyu, Couch, Fine Fescue, Rye Fescue, and our most popular Tall Fescue. Tall Fescue does extremely well in our local coastal areas and looks green and lush year round. Couch and Kikuyu are hardier grasses, suitable for an area that will be used by pets or a high traffic area. They are summer grasses and will stay green during the hot weather without the high watering requirements of other grasses. Be mindful of the fact that they both go dormant over winter and can brown off if hit by a frost. They will bounce back quickly come spring!
We will prepare the ground and make sure the soil levels are right before installing the Roll out Turf. The process is quick and painless and can be done in a day depending on the size of your area!
Let's Talk Maintenance!
Taking care of your newly laid Roll out Turf is the most important part of the entire process. A newly laid lawn needs just as much love and attention as any other living product. To make sure it receives enough water in the summer time and to avoid standing outside multiple times a day with a hose, have us install an irrigation system!

We will send through a care guide so you have all the knowledge you need to get the very best results from your lawn!
Find out More!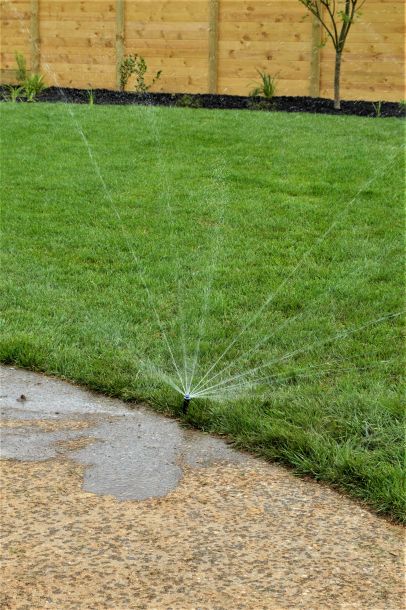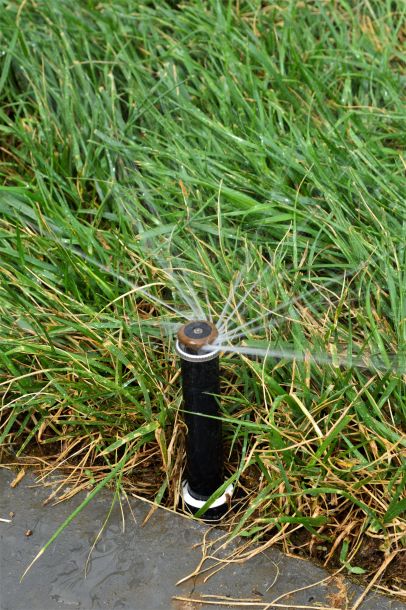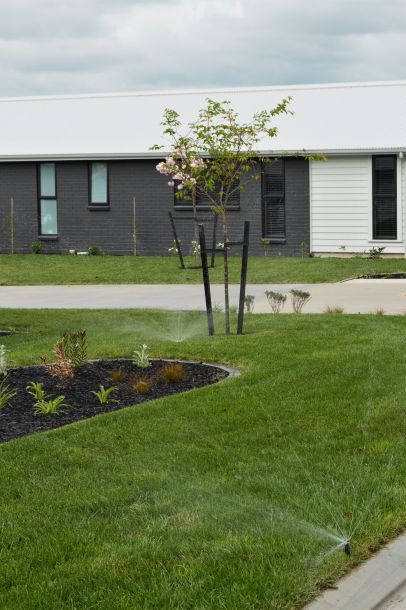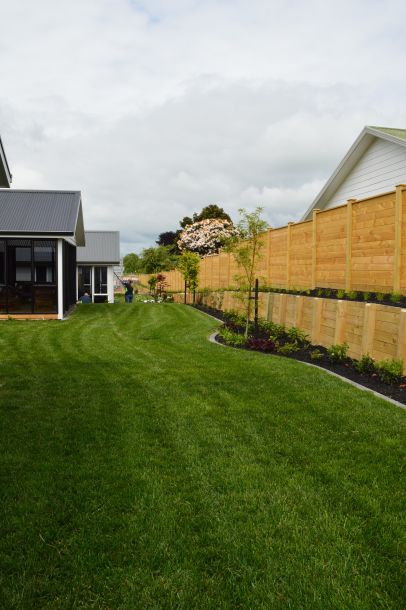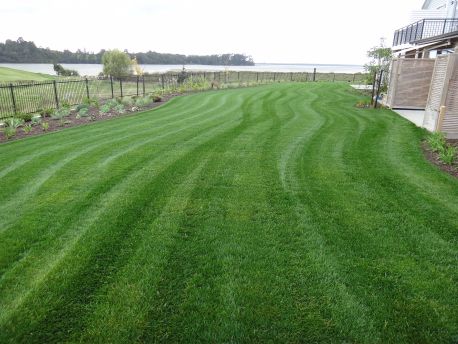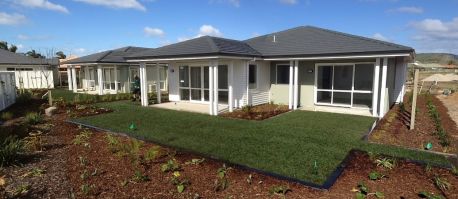 Testimonials
What they
said
We're fortunate to have worked with a variety of clients on a wide range of projects. Here's what they had to say.
Read all
"I'm writing this email with a huge amount of contentment!! Wow! Wow!! What an amazing job your team have done. It's like a ton of bricks have lifted off my shoulders. I can actually breathe now and focus on other parts of the house before hitting the market. Thank you so much. I really appreciate it."

Codri
Maria Tini Drive
"Incredible work by the Rapid Lawn team! Irrigation system, site levelling and ready lawn done to the highest standard. Cannot recommend these guys enough. We are thrilled with the result. Our lawn looks like something out of a landscaping catalogue."

Robbie & Taylor
Kanapa Close, Papamoa
"I just wanted to let you know that Brenda and I really appreciate the great work your team did at our property. It was a lot of hard work with limited access but the boys kept a friendly attitude and a good work ethic to make sure we were satisfied with their job. At the end of each day they also tidied up so no mess was left behind. It's difficult to separate anyone for special praise but I must mention Wendy who did all the irrigation work. She planned the placement of the sprinklers to make sure the whole strange shaped lawn was irrigated and now it's growing very well. I thought she did a great job. We still have a lot of planting to do but we can see how well it's taking shape. I'm pleased to have chosen your company for our job."


Malcolm & Brenda
Irrigation and Landscaping
"Wendy and the boys were great, friendly and extremely efficient. Our watering system and lawn are first class and we look forward to using it with friends in the new year."

Peter Barns
Lawn and Irrigation
"Thank you very much for the landscaping. I really love all of it, and the landscaping team that came here did a wonderful job. The hedge is going to look fantastic out the front once it's grown, and the paving down the service area was done very well, and looks great."

Carmen
Landscaping
"We are thrilled with the completed job at our place. Can't really say enough about your company, so thank you."

Nicala Cooper
Landscaping & Irrigation
"Across two days (in very hot conditions), Gene and Marcello worked incredibly hard and efficiently together to prepare the site. I was very impressed with their professionalism, friendliness and positive attitude. Gene and Marcello clearly work well as a team and are an assest to Rapid Lawn. I am so happy with the progress and very excited to see the finished result."

Gemma
Landscaping & Fencing
"We have struggled with a small lawn area in our backyard that is oddly shaped and varies in direct sun and shading. Rapid Lawn provided a new lawn together with our need for a sprinkler system that would cover the odd shapes without wasting water on paths or other areas. They gave excellent advice, removed our old pathetic lawn, and installed the new 'ready laid lawn' to our complete satisfaction. We chose "Tall Fescue" and all of our family and friends are amazed at how much better it looks. We love that our sprinkler system can be programmed and operated from our phones.

We wholeheartedly recommend the team from Rapid Lawn to anyone who wants a professional job (big or small) at a competitive price."

Chas and Stephen
Roll out Turf and Irrigation
"We were very happy with the service we received from Rapid Lawn. We first made contact with Rapid Lawn during the COVID-19 lockdown and were told that there was a backlog of jobs to be completed once work could resume before ours could be done. To our great delight, our instant lawn was laid before the end of May. The team even provided an extra 8 square metres because I had miscalculated our area. Rapid Lawn has really finished the landscape off nicely - looking very professional."

Don and Janine
Roll out Turf
"Rapid Lawn recently did our lawns and they did an amazing job. The lawns look amazing and lush, the grass is thick and healthy, and the pavement blocks were perfectly laid out. I didn't think our garden would ever look this good. They are ahead of other lawn companies as they really have a variety of technologies to suit your needs. The staff were on another level. Everyone we dealt with were amazing, they were really friendly, honest, reliable and trustworthy, didn't think companies like that still exist out there but Rapid Lawn really are the best company I have dealt with in a very long time. The staff really do have your best interests, they are onto it with providing the best advice and solutions, they get back to you almost instantly and they actually guide you and tell you what you need and don't need. I would recommend them to anyone in a heartbeat and will definitely be dealing with them again in the future."

Mays
Hydroseed and Landscaping
Have
questions?
Contact us today for more information or to arrange a no obligation measure and quote.
Drop a line