Hydroseeding is a process of combining water, premium grass seed, fertiliser and protective mulch together. The fertiliser and mulch mixture provides an ideal nurturing environment for seed germination to establish a lush dense and healthy lawn.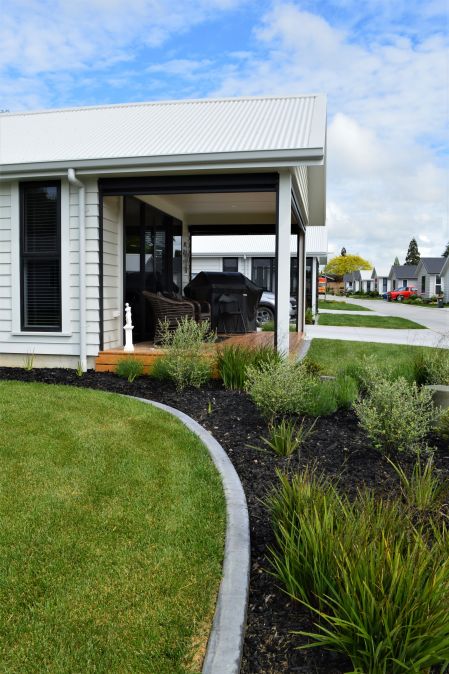 Why Choose Hydroseeding?
Hydroseeding is a great and cost effective option for obtaining a lush and healthy lawn if you have the time to wait! With the right care, the results can be amazing!
The Process
Once the ground has been prepared, the hydroseeding mix (a combination of seed, fertiliser, mulch and water) is sprayed onto the desired areas by our hydroseeding machine, handled by our landscapers.
The hydroseed mixture bonds the seed to the soil which helps to keep pesky birds at bay and prevents erosion from any windblown soil and light rain.
The Result:
Germination time will depend on the weather and the consistency of watering after application. In optimum growing conditions, including sufficient watering and warm ground temperatures, moisture is retained closer to the seed aiding the germination which can be achieved in just 5 days. Generally lawn germination will take approximately 10-14 days depending upon watering and ground temperatures.

We will provide you with a care guide upon completion. This care guide will provide you with all of the necessary information to grow a healthy and lush lawn and keep it that way!
Testimonials
What they
said
We're fortunate to have worked with a variety of clients on a wide range of projects. Here's what they had to say.
Read all
"Incredible work by the Rapid Lawn team! Irrigation system, site levelling and ready lawn done to the highest standard. Cannot recommend these guys enough. We are thrilled with the result. Our lawn looks like something out of a landscaping catalogue."

Robbie & Taylor
Kanapa Close, Papamoa
"Wendy and the boys were great, friendly and extremely efficient. Our watering system and lawn are first class and we look forward to using it with friends in the new year."

Peter Barns
Lawn and Irrigation
"Thank you very much for the landscaping. I really love all of it, and the landscaping team that came here did a wonderful job. The hedge is going to look fantastic out the front once it's grown, and the paving down the service area was done very well, and looks great."

Carmen
Landscaping
"We were very happy with the service we received from Rapid Lawn. We first made contact with Rapid Lawn during the COVID-19 lockdown and were told that there was a backlog of jobs to be completed once work could resume before ours could be done. To our great delight, our instant lawn was laid before the end of May. The team even provided an extra 8 square metres because I had miscalculated our area. Rapid Lawn has really finished the landscape off nicely - looking very professional."

Don and Janine
Roll out Turf
"Rapid Lawn recently did our lawns and they did an amazing job. The lawns look amazing and lush, the grass is thick and healthy, and the pavement blocks were perfectly laid out. I didn't think our garden would ever look this good. They are ahead of other lawn companies as they really have a variety of technologies to suit your needs. The staff were on another level. Everyone we dealt with were amazing, they were really friendly, honest, reliable and trustworthy, didn't think companies like that still exist out there but Rapid Lawn really are the best company I have dealt with in a very long time. The staff really do have your best interests, they are onto it with providing the best advice and solutions, they get back to you almost instantly and they actually guide you and tell you what you need and don't need. I would recommend them to anyone in a heartbeat and will definitely be dealing with them again in the future."

Mays
Hydroseed and Landscaping
"Arrived back from our holiday and found our new lawn looking great and starting to grow as advised by Peter. The irrigation system is great and thankfully has helped with the germination. Certainly the best thing we did and will be well utilised over the summer. We are pleased with how the transition from old lawn to new lawn went. The grass is beautiful, the best lawn in the street."

Michael
Irrigation & Hydroseed
"I was absolutely amazed by the work completed. Having heard good things about Rapid Lawn, I was expecting good results, but what I saw far exceeded this. Quick, prompt, efficient service with fantastic results. Without a doubt, I would recommend Rapid Lawn to anyone enquiring into Hydroseeding, Roll out Turf or landscaping."

Sue
Landscaping
"Top notch service. Very happy with the work. 10/10"

Tanya
New lawn and Garden
"Your team did a very good job laying our back lawn yesterday. They were very polite and helpful and did a great job. Please give them a pat on the back."

Graeme
Denny Hulme Drive, Papamoa
"Your guys were great and because I was available we made a couple of changes that suited me. Very pleased with the job and they got a mandarin stump out that I asked them if they would do which I would have found hard"

Ted
Motiti Road, Papamoa
Have
questions?
Contact us today for more information or to arrange a no obligation measure and quote.
Drop a line